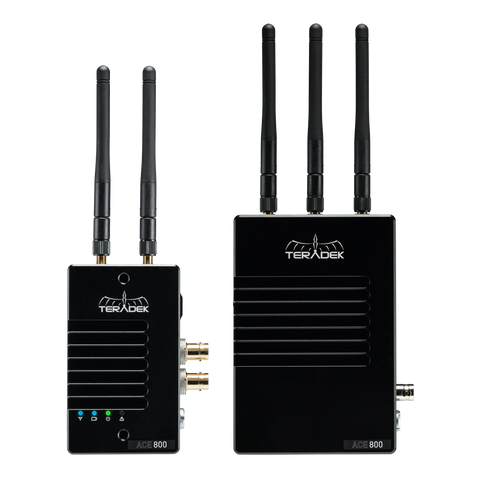 Price: $1,790.00
Deposit:$100.00
DISCONTINUED This item has been discontinued and is no longer stocked.
ACE 800 can only be paired with other ACE 800 models within the same region. 

ACE 800 cannot be paired to any other ACE model (like Ace 500) and cannot be reprogrammed to another region.
AFFORDABLE WIRELESS VIDEO
Ace 800 is an affordable, zero delay wireless video system featuring HD video transmission and professional performance with up to 800 ft. of range. Designed with the same reliability and performance as the renowned Teradek Bolt line, you get the benefits of wireless video without the hefty price tag.
For mission-critical video applications, count on Ace 800 to provide a continuous video feed and clean, HD picture quality. An intelligent RF design enables you to transmit over the 5GHz band in even the most challenging production environments.
Connect Ace 800 to any camera via SDI for a compact, lightweight wireless setup that enables greater mobility so you can capture tricky shots with ease.
BUILT FOR CONTENT CREATION
MONITORING FOR ALL
Send 1080p60 video from one transmitter to up to four receivers* simultaneously and let your crew and clients monitor every shot as it happens.
DESIGNED FOR DURABILITY
With a durable aluminum-milled chassis and 2-pin locking power connector, Ace 800 is ready to take on the elements - from in-studio to run-and-gun productions.
DESIGNED FOR ANY RIG
To adapt to whatever your rig requires, Ace 800 features three built-in ¼-20" mounting points for camera arms or hot shoes, and an optional mounting bracket.
PROFESSIONAL POWER
Keep your Ace powered with optional battery plates* that attach directly to your transmitter. Power your receiver with optional Gold or V-Mount battery plates.
*Optional in dual Sony L-Series and Canon LP-E6, BP-U, and BP-9
ROBUST ANTENNA DESIGN
External antennas on the TX and RX ensure a more robust wireless performance and greater signal diversity for a consistent video feed in variable production environments.
WIRELESS VIDEO FOR ANY APPLICATION
Whether you need to receive video in the palm of your hands or input to a video switcher, Ace 800 has you covered with SDI and HDMI outputs. Trust your wireless link even on large sets or in tough production conditions. With flexible outputs and a compact chassis, Ace 800 makes it easy and affordable to integrate wireless video onto any set.
*Not compatible with other Teradek Bolt or Ace products.
Teradek ACE 800 is designed for use in the United States and EMEA.