Paralinx Arrow-X Receiver (Receiver ONLY)- Refurbished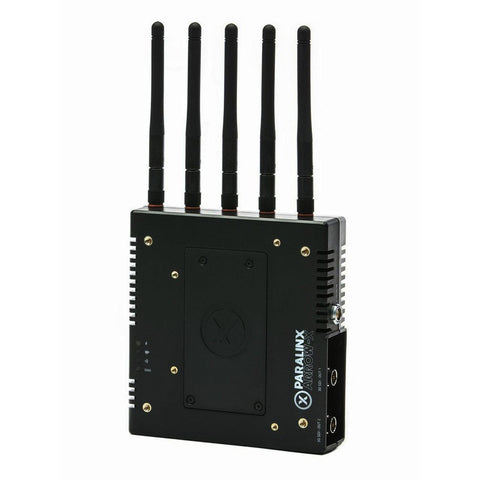 Price: $1,999.95
Deposit:$100.00
** Refurbished items may show signs of gentle use that do not affect product function. All items have been quality tested. **
The Paralinx
Arrow-X System
 is a revolutionary HD Video Transmission system offering Realtime Wireless HD with robust long range for your Television, Film, Broadcast, Industrial or UAV/UAS application.
The Paralinx Arrow-X transmits full-HD 1080p/60 with a range of up to 700 feet (215m) with default antennas (longer range possible with optional antennas) and still maintains an incredible sub 1ms latency glass-to-glass.
The Arrow-X receiver features 2-Pin Lemo power connectors capable of a wide 7-17V unregulated input voltage and dual 3G-SDI video outputs.
Much like the popular Paralinx Tomahawk, the Arrow-X transmits Full-HD video (up to 1080p/60 4:2:2) with less than 1 millisecond delay and is capable of handling up to 4 simultaneous receivers. The receiver weighs 12 oz/340g (without antennas).
Battery plate, antenna, mounting, power cable, and case options are available as accessories. 

Arrow-X Receiver Features:
Lightweight Minimalist design for reduced payload

Dual 3G-SDI outputs

Rugged ABS enclosure

Long-range transmission - Up to 700 feet (215 meters) *

REAL-TIME viewing - Less than 1 millisecond latency

Uncompressed full-HD video signal allow critically accurate monitoring

Multicast capable (up to 4 receivers per transmitter)

128 bit AES Encryption - Secure transmission

Operates on 5gHz frequency band

Conforms to major technical and environmental standards including FCC, CE, MIC (TELEC) and RoHS Specifications

* Range may vary depending on environment and interference

Dimensions (US): 5" x 5.6" x 1.3" (not including antennas)
Dimensions (EU): 143mm x 128mm x 33mm
Weight:  12oz / 340g (without antennas)
In the box: 
1 Arrow-X receiver w/stock antennas (dual-SDI outputs)
1 AC power adapter with 2-pin Lemo-type connector
1 mini-USB to USB cable (for firmware updates only)
NOTE: Additional Power Cables for the Arrow-X system must be purchased separately. PTap to 2-pin Lemo-type, 2-pin Lemo-type to 2-pin Lemo-type, and JST-RCY to 2-pin Lemo-type options are available.