Latitude Sidekick 3-Channel Motor Driver Receiver | RED Camera Control- Refurbished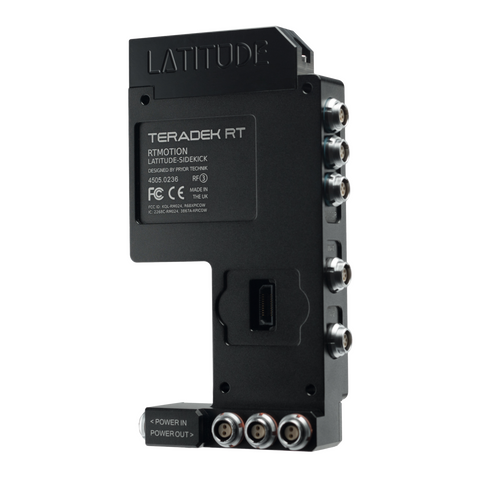 Price: $250.00
Deposit:$100.00
** Refurbished items may show signs of gentle use that do not affect product function. All items have been quality tested. **
The Latitude Sidekick motor driver receiver is designed to fit seamlessly onto the side of any RED DSMC2 camera. It supports up to 3 motors for FIZ control (Focus, Iris, and/or Zoom) and can control run/stop on DSMC2 cameras. The system receives commands from any Teradek 4-Axis or 6-Axis Controller at up to 5000ft (1.5km) away and includes automatic or manual (softstop) calibration with a proprietary algorithm for torque control and lens protection. Since the Latitude Sidekick integrates with all RED DSMC2 cameras, it allows users to control EF/AF lens focus/iris with their own internal motors, in addition to camera shutter, ISO, run/stop and button features (2x magnification, edge, focus assist).

Official RED third party accessory compatible with any DSMC2 camera
Passes data through RED camera data pins
Drives up to 3 lens motors and/or electronic focus and iris on Canon & Nikon lens using their built in motors
This module requires more power than the BRAIN can supply from the Sidekick port, so you need EXTERNAL Power and CTRL cables. These connect neatly at the back/bottom of the module.
The 3x LM 2-pin power outputs are passed through directly at the same voltage as the Power-Input.
The MDR-SK does NOT have WIFI built in as it is for use with DSMC2 cameras which have integral WIFI.
The RED SIDEKICK is fully supported and will power and communicate normally. The RED DSMC2 Side Handle is NOT supported due to physical warranty concerns.
*Please note the Latitude Sidekick MDR-SK WIFI range booster is no longer included, and the SK will be provided with a flat LATITUDE antenna cap as pictured.