Custom Cases for Tomahawk2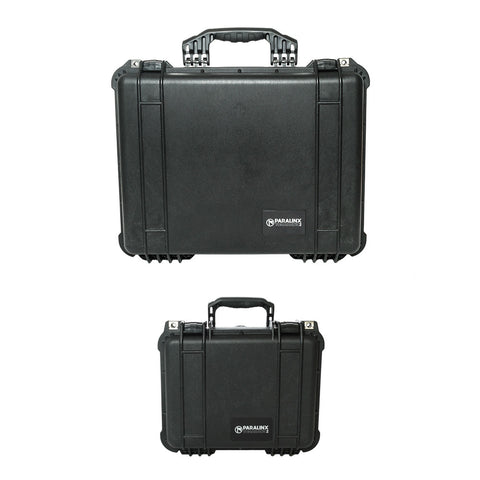 Price: $299.95
Deposit:$100.00
Pelican 1550 - Large
Carry and protect your gear in style. This Pelican 1550 case with custom foam insert holds up to 2 Tomahawk2 transmitters, 4 receivers, and 2 Array panel antennas. Color: Black
Details about the 1550 case from Pelican:
WATERTIGHT, CRUSHPROOF, AND DUST PROOF
Easy open Double Throw latches
Open cell core with solid wall design - strong, lightweight
O-ring seal
Automatic Pressure Equalization Valve
Comfortable rubber over-molded handle
Stainless steel hardware and padlock protectors
Lifetime Guarantee of Excellence
INTERIOR
(L x W x D)


18.43" x 14" x 7.62" (46.8 x 35.5 x 19.3 cm) 
EXTERIOR (L x W x D)
20.62" x 16.87" x 8.12" (52.4 x 42.8 x 20.6 cm) 
BODY: Polypropylene
LATCH: ABS
PURGE BODY: ABS
LID O-RING: Polymer
PURGE VENT: 3 Micron Hydrophobic Non-Woven PET
PINS: Stainless Steel
PURGE O-RING: 70 Shore Nitrile

Pelican 1400 - Small
Custom laser-cut foam in a Pelican 1400 hard-shell case for your Tomahawk2 1:1 system. Take extra-special care of your precious gear with this rugged case, which also features plenty of extra storage room for accessory cables. Available in Black only.
From Pelican:
WATERTIGHT, CRUSHPROOF, AND DUSTPROOF
Easy open Double Throw latches
Open cell core with solid wall design - strong, light weight
O-ring seal
Automatic Pressure Equalization Valve
Stainless steel padlock protectors
Comfortable rubber over-molded handle
Stainless steel hardware
Pick N Pluck™ with convoluted lid foam
Lifetime Guarantee of Excellence
Interior Dimensions
(LxWxD)


11.81" x 8.87" x 5.18" (30 x 22.5 x 13.2 cm) 
Exterior Dimensions (LxWxD)

13.37" x 11.62" x 6" (33.9 x 29.5 x 15.2 cm) 
BODY: Polypropylene
FOAM: 1.3 lb Polyurethane
LATCH: ABS
PURGE BODY: ABS
LID O-RING: Polymer
PURGE VENT: 3 Micron Hydrophobic Non-Woven PET
PINS: Stainless Steel
PURGE O-RING: 70 Shore Nitrile