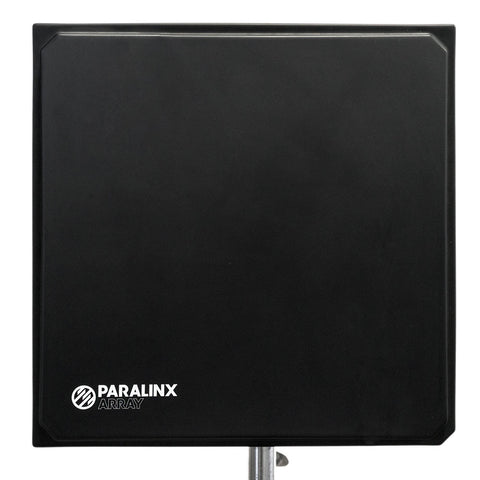 Price: $439.95
Deposit:$100.00
DISCONTINUED This item has been discontinued and is no longer stocked.

The Paralinx Array is a custom 5-input MIMO panel antenna designed for use with your Tomahawk Receiver to increase signal robustness (19dbi max boost). The Array works within the 5GHz spectrum (5.1-5.8GHz), and is small and lightweight with the ability to clip onto your Tomahawk receiver using the included Gold-Mount or V-Mount battery plate (female) and a Gold Mount or V-Mount male battery plate (purchased separately).
Please note the Array is NOT intended for use with a transmitter/emitter.
For mounting a Paralinx Array and Tomahawk or Arrow-X Receiver to a stand you might want to consider the PERCH.
Dimensions:
13.78 x 13.78 x 1.25 in (35 x 35 x 3.18 cm)
In the box:
1  Paralinx Array 5-input MIMO panel antenna
5  10"/25cm N (right-angle) to RP-SMA cables
1  Speed-Rail mounting bracket
1 Gold-Mount OR V-Mount battery plate (female) for easy mounting