Link Pro Backpack - Wireless Access Point Router Backpack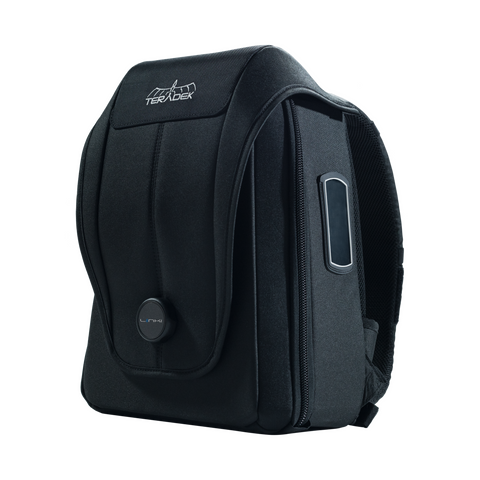 Price: $4,990.00
Deposit:$100.00
Bring high speed internet connectivity while you're on the go with the Link Pro Backpack. Each pack includes 4 Node modems and an option for Gold or V-mount battery plate, which will power the system continuously for up to 24 hours.
Ergonomic, Weather Resistant Design
The backpack is ergonomic, lightweight, and weather resistant, allowing the camera operator to focus on the content and not on fatigue or damage from the elements. Nylon strips on the Backpack's shoulder straps keep your cables neatly dressed along your shoulder, while the quick release lock on the front offers quick access to both the router and battery.
Node
Teradek Node is a high-powered 3G/4G/LTE modem that offers 2 to 3 times the performance of carrier-branded modems. With comprehensive data band support, Node supports SIM cards in regions all around the world.
Be sure you select a Node region compatible with the network bands available in the areas you plan to use Node. Refer to the table below:
LTE
North America: LTE FDD Cat 4, Bands 2,4,5,13,17
EU/Asia: LTE FDD Cat 4, Bands 1,3,5,7,8,20
JP: LTE FDD Cat 4, Bands 1,3,5,8,19
SA/AUS: LTE FDD Cat 4, Bands 1,3,5,7,8,28
UMTS
North America: HSDPA Cat 24, HSUPA Cat 6, Bands
850/1900
EU/Asia: HSDPA Cat 24, HSUPA Cat 6, Bands
850/900/1900/2100
JP: HSDPA Cat 24, HSUPA Cat 6, Bands
850/900/2100
SA/AUS: HSDPA Cat 24, HSUPA Cat 6, Bands
850/900/1900/2100
Wikipedia List of LTE networks
Maximum Redundancy
Link Pro combines up to six 3G/4G/LTE modems into a single, robust Internet connection for devices to connect to. This eliminates a single point of failure, allowing you to browse the web seamlessly without any interruptions to your work.
Powerful Range
Up to 600 ft. of wireless range.
Built to Withstand
Link Pro's rugged aluminum chassis is built to withstand the harshest of work environments, whether you're in the studio or on-the-go.
Dual Band 2.4 / 5.0 GHz WiFi
Choose the network that's right for your environment. Whether you require more range for your work (2.4GHz) or a less-congested band (5.0GHz), Link Pro supports the latest in WiFi standards.
Gold or V Mount Battery Plate
Choose between Gold-mount, V-mount, or no battery plate for portable power. When your battery runs dry, Cubes internal Li-Ion battery will give you 5 minutes of operation while you swap power sources.
Core
A subscription to our Core platform is required to get the most out of Link Pro. With Core, you can leverage multiple cellular data links at one time to surf the web, upload files, stream video, and more. Without a subscription, Link Pro cannot operate over bonded connections.