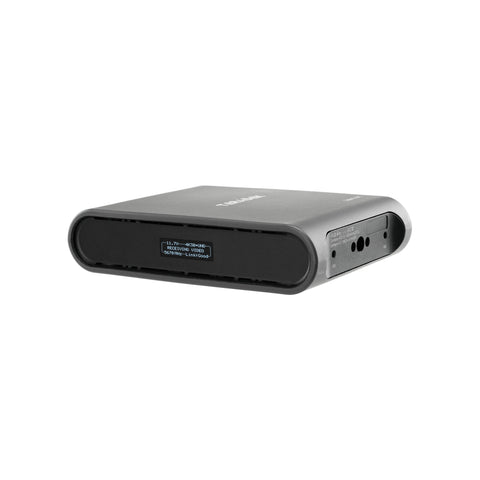 Price: $749.00
Deposit:$100.00
Transport your 4K HDR video signal from source in 0.001 seconds with the Spark 4K Receiver. The Spark 4K Receiver is a wireless receiver that receives premium quality video and audio at up to 500 feet. It's the perfectly simple A/V solution for zero-delay wireless transmission, designed for everything from weddings, conferences, live sports, and trade shows, to table tops and cameras.
The Spark 4K Receiver has been designed for an effortless stream. The RX is simple to set up and helps to create a clean, organized work environment, wirelessly receiving vivid images – with 10-Bit 4:2:2 color sampling and 4Kp30 resolution – at up to 500 feet. And thanks to a lightweight design and small build – only slightly larger than a cassette tape – the Spark 4K Receiver is perfect for on-the-move camera work.
Key features of this streaming include dual-powering options (USB-C and Barrell Connector) for backup battery redundancy, signal status and pairing with the Launchpad desktop and mobile app, and multicast transmission. The Spark 4K Receiver works with projectors, switchers, monitors, TV screens, and LED video walls.
Need a transmitter? Visit the Spark 4K TX product page