Paralinx Arrow-X HDMI Transmitter (ONLY) - Refurbished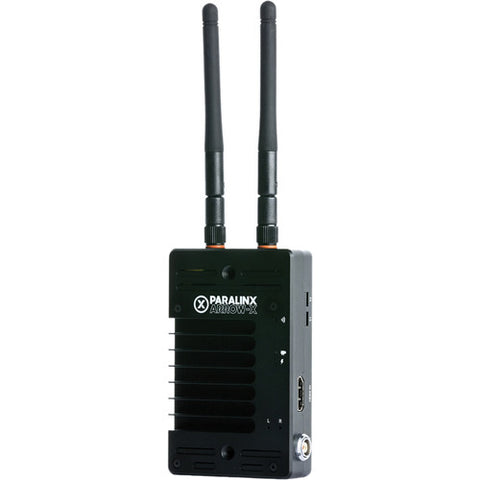 Price: $699.00
Deposit:$100.00
*Refurbished item may show signs of gentle use that do not affect product function. All items will be quality tested before shipment.*


The Paralinx HDMI Transmitter for Arrow-X transmits up to 1080p 60 4:2:2 video with audio across 700 ft with a delay of less than 1ms, allowing for near real-time monitoring and/or recording. Up to four optional receivers can be linked for use at the same time. Please note that the Arrow X transmitter will only work with an optional Arrow-X receiver and is not compatible with other Paralinx receivers such as Arrow, Arrow Plus, or Tomahawk. Transmission distances longer than 700 ft can be achieved using optional higher-range antennas.

The Arrow-X Transmitter features an HDMI input for video signals and a 2-pin locking power connector. The system operates on the license-free 5 GHz frequency band and uses secure 128-bit AES encryption. It features two 1/4"-20 threads on the front for mounting on your rig.

700' Range
The Arrow-X can transmit uncompressed video to up to four receiver units 700' away. This capability is useful for outdoor shoots where video is monitored by the director or the client in a video village.
Easy Setup
With dynamic frequency scanning, the Arrow-X can be quickly synced with up to four receivers.
Robust Construction
The transmitter has a rugged machined aluminum enclosure.
Secure Transmission
Your video transmission is protected by 128-bit AES Encryption.