NDI License for Cube 705 / 755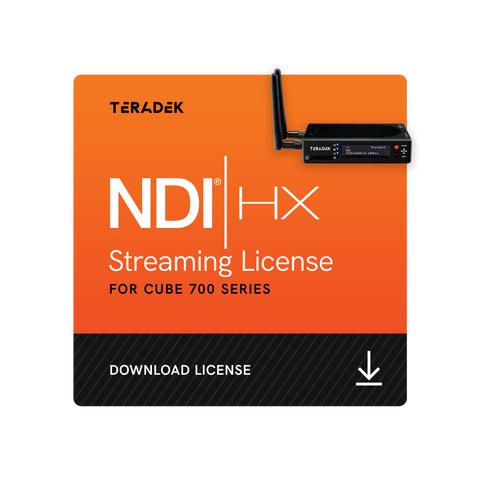 Price: $300.00
Deposit:$100.00
Please Note: Licenses Are Non-Refundable and Non-transferable
The Teradek NDI license is an NDI® | HX protocol add-on for the Cube 755, Cube 705, or Slice 756. NDI will be accessible as a protocol on your device once the license is purchased and activated.

About NDI
NDI | HX (Network Device Interface High Efficiency Mode), developed by Newtek, is a high performance streaming protocol that allows anyone to use real-time, ultra low-latency video on existing IP video networks. 
The NDI license allows for seamless integrations on LAN workflows for the Cube 700 series encoders (705, 755) and the Slice 756 encoder. 
Make Video Connectivity Simple: NDI moves live digital media around with NDI compatible software applications, computing devices, and networks using what you already have.
Scale Up Capacity: NDI empowers even small teams of creatives to achieve big show results, as there are no limitations from specialized upgrades, networks, or hardware.
Mix Different Media: To keep your productions looking good, NDI preserves visual quality, frame accuracy, and source synchronization.
Connect All Activities: NDI is an elegant solution that merges all stages of production from start to finish, so all your production tasks and processes are united to accomplish your creative vision.