Cube 655 - H.264(AVC) Encoder SDI/HDMI GbE WiFi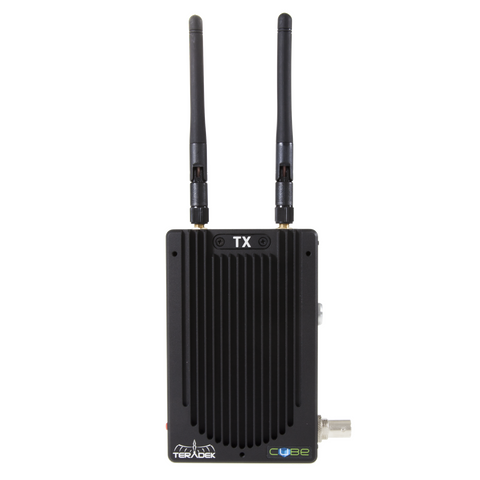 This product is discontinued. Explore Prism to view Teradek's flagship encoder & decoder line.

Cube 655 is an H.264 (AVC) video encoder that enables live video streaming over the internet, point-to-point workflows (encoder-to-decoder), local wireless video monitoring, and proxy file uploads for camera-to-cloud workflows. Featuring 3G-SDI and HDMI inputs, a high-powered 802.11AC WiFi router, and a rugged aluminum chassis with a professional locking 2-pin connector.
Higher Bitrates for Improved Wireless Performance
Cube 655 encodes video at bitrates up to 15 Mbps for pristine image quality in any application. When bandwidth is limited, adaptive bitrate allows Cube to automatically adjust and stream at the highest available quality. The built-in 802.11ac dual band WiFi router (2.4/5GHz) offers higher data throughput and stronger wireless connectivity at longer distances.
Record Directly to Cube 655
With Cube's built-in SD card slot, users can record directly to the device and save high quality backup files for post-event editing. Recorded video file bitrate and resolution match the encoded stream quality. A configurable test pattern generator allows you to test your stream without connecting a video source and prevents interruptions if video sync is lost.
Intuitive User Interface

An LED interface makes it easier than ever to configure Cube 655. Pages load more quickly, configuration changes apply instantly, and all encoder statuses are updated dynamically. Users can also configure Cube 655's settings within a local web browser or over the Cloud via Core.
Core - Live Stream to Anywhere in the World
Connect Cube 655 to the internet via local WiFi, Ethernet, or 3G/4G/LTE modems, and manage live video streams with the Core Cloud Management Service./p> Compatible with
Teradek Node LTE Modem
Live streams can be viewed via Core TV App on Apple TV, MacOS, iOS, and Android 

Vuer App - Local On-Set Monitoring
View a wireless video feed on personal smart devices. Connect with Cube's WiFi hotspot via the Vuer App, so clients, crew, and the director can all access their own personal video village.
Connect up to 6 local devices 

Available on MacOS, iOS, and Android 

Frame.io C2C - Camera-to-Cloud Compatibility
The Frame.io cloud-based workflow bridges on-set camera capture with post-production NLE systems. Cube 655 is the only device capable of capturing color-accurate proxy files directly from camera video feeds and uploading them into the Frame.io cloud system. LEARN MORE.
H.264 (AVC) proxy uploads - stored locally on Cube 655

Exact camera metadata transfer, including filename, timecode, audio reference, and more.

Connected via WiFi or Teradek Node LTE Modem