Bolt 4K LT HDMI 750 TX/RX Kits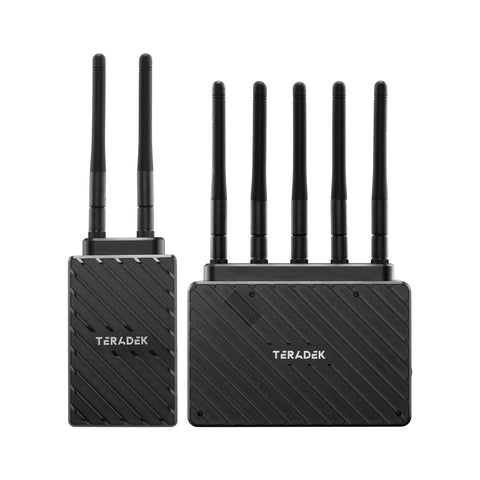 USD
Price: $1,990.00
Deposit:$100.00
Not Available - See your local channel partner for inventory. For alternative Bolt HDMI-Only options see Bolt 6 LT HDMI.
The Bolt 4K LT HDMI is an HDMI-only, zero-delay wireless video solution designed for longterm compatibility across our entire Bolt 4K ecosystem, so that as your production grows your Bolt 4K family will too. It supports 10-bit HDR video up to 4K30p with a line-of-sight range up to 750 feet (228 meters).

Key features of the Bolt 4K LT HDMI Kit include a BB3 Wireless Chipset, which allows for 4K HDR transmission, better image quality at all resolutions, stronger link robustness, and pairing of up to 6 receivers. With the kit you'll get zero image-delay for critical focus-pulling, an HDMI loop out, a ruggedized aluminum-unibody chassis, stable connectivity, and fast reconnection times. Additionally, this Teradek product transmits audio and timecode and has ultra-fast pairing and intuitive setup with the Bolt Manager App. Its enhanced AES-256 encryption prevents unauthorized access.

The Bolt 4K LT HDMI Kit is built with aircraft-grade aluminum for a field-ready, lightweight form factor with ¼-20 and M3 mounting points. This product is designed for filmmakers and creators with small camera setups who want professional performance that's reliable, vivid, and durable.

This set includes a Bolt 4K LT HDMI 750 TX, Bolt 4K LT HDMI 750 RX, and the choice of a Gold Mount, V-Mount, or no battery plate.

Audio capture

Backgrounds

Camera accessories

Carrying Solutions

Distribution, rental & services

IP video

Lens control systems

Lighting & lighting
controls

Live streaming

Mobile power

Monitors

Prompters

Robotics camera systems

Smartphonography

Supports & stabilisers

Video transmission
systems
*Manufactured under licence