As of January 20, 2023 Airmix is no longer being supported. Click here to check out our Live Streaming Setup Guide!
Make your live streams come alive
Go live in style with Airmix, the powerful iOS video production suite from Teradek. Airmix transforms your basic single or multi-camera live production into a highly-polished live streaming experience. Only Airmix provides you with the tools to tell the story the way you want to tell it, from any angle, and on any streaming platform of your choice.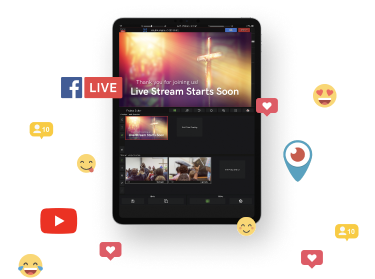 *Optional Teradek Core or Sharelink account required for multi-platform streaming.
Simple enough for amateur use, yet powerful enough for professionals, Airmix turns your iOS device into a video switcher, making it the ideal solution for streaming any event. Broadcast to multiple platforms simultaneously, like Facebook, YouTube, and Periscope, to reach a maximum audience. Keep connected with family by streaming graduation ceremonies, live stream local football games to rally the community, and strengthen religious outreach by live streaming worship services with Airmix.
*Optional Teradek Core or Sharelink account required for multi-platform streaming.
Polish your
live productions
With custom graphics, text, and customizable lower-thirds, Airmix transforms your live stream into a vibrant and engaging experience for audiences. Impress your followers with a range of seamless transitions, animations, and scaling options. Personalize your work by bringing in your own logos or content from web-based links and PowerPoint. Wow your audience with chromakey (green screen) technology and more.
For sports, Airmix offers an array of features that bring game-changing customization to your live stream. Re-watch the big plays throughout your broadcast in Instant Replay to provide viewers with in-game highlights. Break down every play in detail using Slow Motion and keep fans' heads in the game with Airmix's built-in sports timer and set of custom scoreboards.
Every angle.
Every video source.
Just a tap away.
As a streamer, you know that cameras and angles are not one-size-fits all. You want a wide angle to capture the whole playing field, a closeup camera following the athlete with the ball, and another angle just behind the goal to capture the ball sailing into the net. This is why Airmix supports up to ten video sources, with the ability to switch between iOS cameras and other cameras like DSLR's and camcorders with Teradek encoders, plus pre-recorded video and audio files.
Capture your event without an internet connection and stream it later
Control levels and set parameters for each video source
See what your audience is saying by adding YouTube, Twitch, and Facebook chat to your live broadcast
Live stream to multiple online video platforms simultaneously and ingest remote video feeds
Bring Powerpoint presentations into your live stream through PDF support
Project-based workflow with quick access presets
iOS VIDEO PRODUCTION SUITE
Video switcher packed with graphics, transitions, sports features, and more including the ability to live stream video from multiple sources