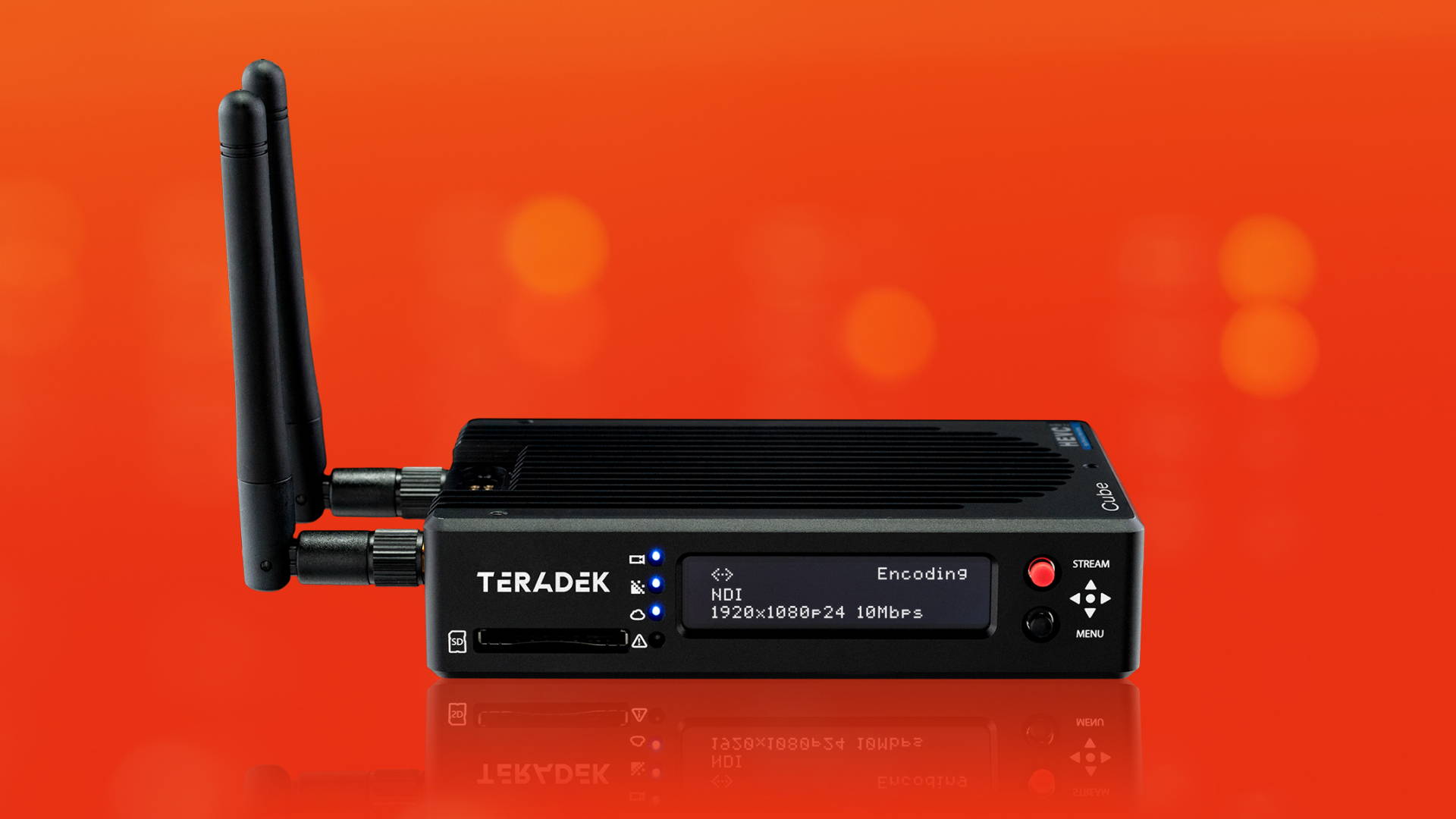 ---
It's no news that Teradek's Cube is one of the most dynamic encoders available. Cube's comprehensive protocol support and rugged portable chassis makes it your all-in-one encoder with its versatile configuration for a variety of workflows based on your needs.
And now, Cube's wide range of abilities just increased to include high efficiency local production as the NDI | HX protocol joins the Teradek family!
Teradek is excited to announce that NDI | HX is now available for our Cube and Slice 700 series encoders. If you own a Slice 756 or a Cube 705 / 755, you can get started with NDI by acquiring a license here. Elevate your streaming workflow with one of the most efficient protocols available for live production.
Keep reading to discover more about:
The basics of NDI

What makes NDI popular

How NDI works

How NDI simplifies your workflow

How NDI expands the functionalities of Cube
Short for Network Device Interface, NDI® is an open protocol developed by Newtek that allows easy access to video feeds connected to your LAN network through NDI-compatible devices. It's one of the leading standards for fast and clean video connectivity in a world transitioning towards network-based distribution systems.
What are some of the NDI benefits?

Ditch the cables. Since NDI puts your video feed on a network, you can stow away your long HDMI or SDI cable runs.


Ingest video with ease.

NDI seamlessly integrates with vMix, TriCaster, and other video switchers.
What's so great about NDI?

NDI is hailed as one of the most efficient protocols on the market for local network video stream delivery. It transports live digital media around with a user's existing software applications, computing devices, and networks. It preserves visual quality, frame accuracy, and sound synchronization - all over a network connection.
In short? No more video cable runs. No more clunky workflows. Very low-latency.
NDI setup is simple. Once an NDI-compatible device is on your LAN, device discovery becomes a breeze.
With NDI enabled, you can connect your Cube / Slice encoder / NDI-compatible device to a video switcher using a wireless or wired LAN. As long as each NDI compatible encoder is connected to the same LAN, the untethered cameras from anywhere at your location can send low-latency video back to your switcher.

Now, you have a much simpler way to connect high quality video feeds with the flexibility to scale your setup. This means less time running long video cables (that you won't need), and less time configuring your devices.
The low-latency keeps your production efficient, and the ability to connect so many moving parts simply over a local network helps unclog your workflow – making camera feed expansion or reduction painless.
Scaling your workflow has never been so easy.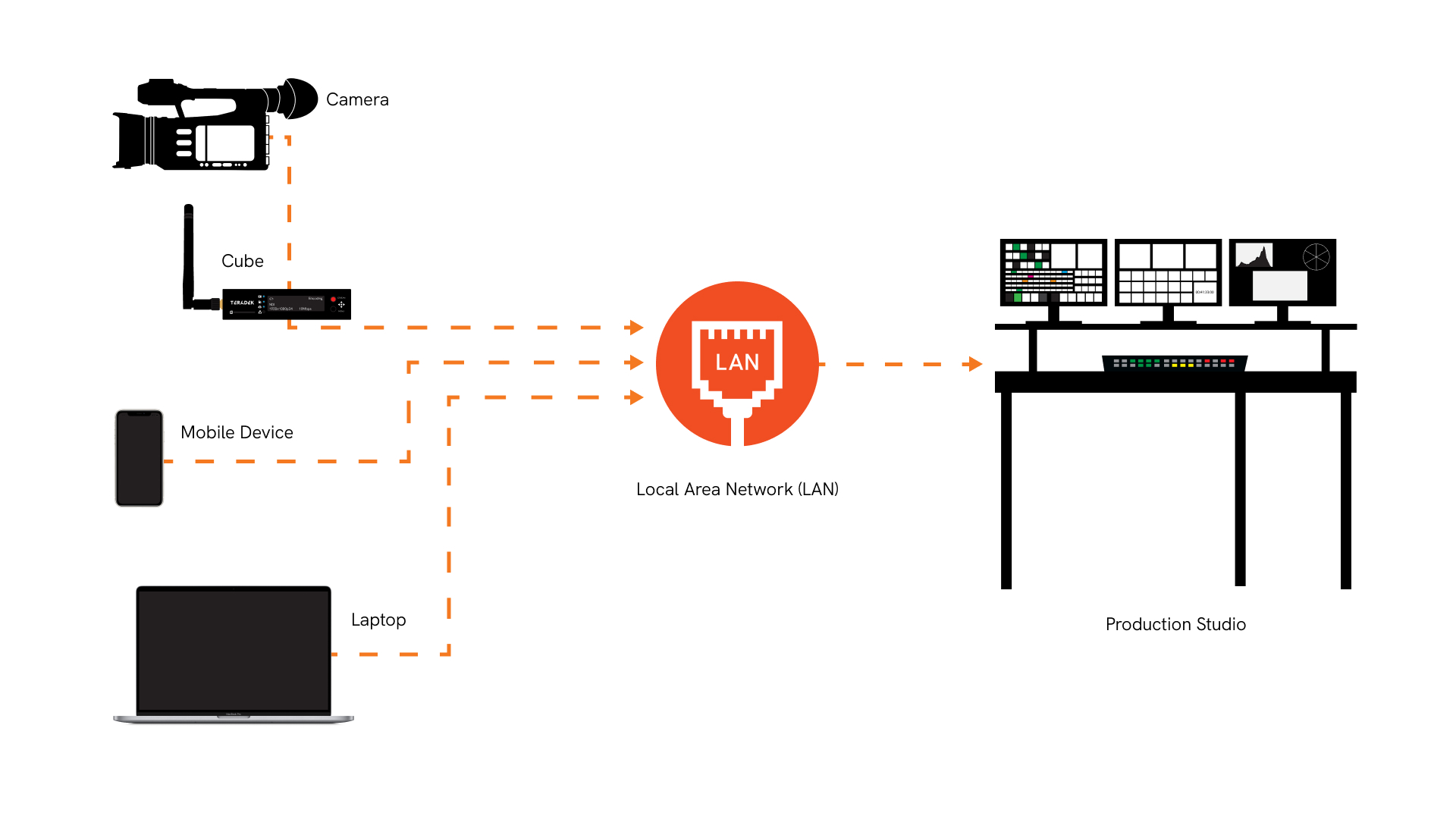 For example, if you are a church that live streams its services, NDI can improve your video routing with the following live stream workflow example:

Connect your cameras to your NDI compatible Teradek Cube encoders. If you're using microphones, connect them to your cameras.

Connect your Cubes onto the church's local network via WiFi or Ethernet connection.

Set up your cameras anywhere on the properly within reach of the LAN connection.

Watch the video feeds funnel into your NDI compatible switcher. Make sure you're connected to the same local network.

Go live and watch the video quality and sound synchronization broadcast itself to your viewers, switching between different camera feeds throughout the church.
Read more about church streaming setups here.
Pro Tip for Using NDI with Cube or Slice

As is the same with any IP workflow, a cabled connection to an Ethernet router is recommended for the most dependable network connection.
If you have some broadcasts planned, and you want to drastically improve the efficiency of your live video feeds, click the button below to purchase Teradek's NDI | HX license and activate your passport to low-latency IP video.
Remember, whether you need NDI for an SRT point-to-point workflow, or you're using our Core platform to manage multiple video feeds with specific destinations, or you are streaming to the web with RTMP, or you're using NDI for high-efficiency local production, Cube with NDI finally has it all.
---