Today, parents are more closely involved in youth sports than ever before. And for good reason. Parents love the powerful lessons sports can offer: how to be a good winner (and a good loser), how to be accountable, how to focus on effort rather than outcome, how to think on your feet, how to be a team player, how to develop your skill – the list goes.
It's no surprise that youth sports live streaming has also increased in popularity. But why are more and more parents live broadcasting their kids' games online?
Well…
It helps you stay connected. You get to spend more time with your child and actively participate in their life, capturing precious memories that last a lifetime.
It helps them stay connected. Away games, work obligations, and health safety make it tough to make it to every game. But live streaming keeps loyal fans glued to their screens and rooting them on.
It's easier than ever to do it yourself. You don't need to be an expert to know how to live stream youth sports. Apps like Airmix can seamlessly transform your iPad into a single-unit production suite for better and higher-quality li you can be proud of.
You get to grow your social network and connect with other parents. Keep reading, and we'll reveal how other parents can add more angles to your stream using an iPhone and Airmix Remote.
It's essential for recruitment goals. Get unedited live footage that scouts and coaches want. Then, take clips to create polished highlight reels and mixtapes for the 1-2 punch.
It's great for film study. Go over plays, correct habits and teach your child using footage you can review together.
It's fun. Let's be honest. Who wouldn't want to showcase their kid's one-handed catch, penalty kick, or game-winning base hit with friends and family to enjoy?
Whether you've got a few streams under your belt, or it's your first at-bat, don't sweat it! We'll coach you along the way. Here's 5 reasons why live streaming your kid's games on your iPad with Airmix will make you a lock for the Most Valuable Parent.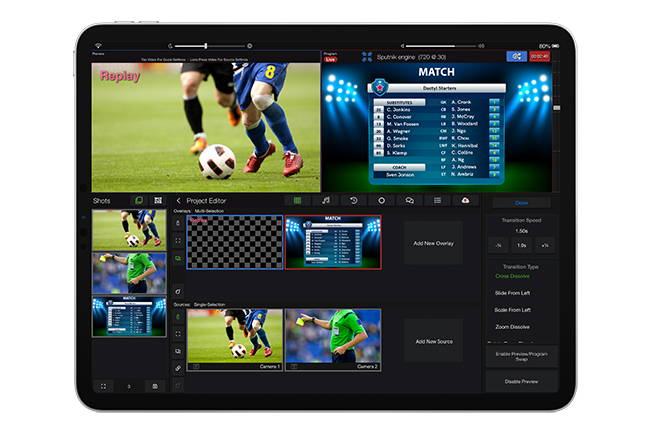 5 Reasons to Stream Games with Airmix
There's a ton to love about Airmix – for beginners and experienced users. Re-watch the big plays throughout your broadcast in Instant Replay to provide viewers with in-game highlights. Break down every play in detail using Slow Motion and keep fans' heads in the game with Airmix's built-in sports timer and set of custom scoreboards.
#1: Keep score with Scoreboards and time with Timers.
Add scoreboards in your team colors and timers to keep your viewers up-to-date.
If you have a second video source, such as another phone, check out the features below.
#2: Get Instant Replay instantly.
Did you see that?! Showcase amazing plays with Airmix's simple playback functionality.
#3: Go Slow-Mo.
Savor the best moments with Slow Motion and break down plays frame-by-frame.
#4: Get multiple angles from multiple devices.
Grab another parent as your teammate and add their iPhone stream to yours using Airmix Remote. And if you guys nail it, you can flex on your kids with your teamwork skills 💪.

#5: Broadcast to Facebook, YouTube, and more.
Can't decide on whether to live stream on YouTube or to Facebook? No problem! Stream to multiple platforms simultaneously with Core, Teradek's cloud-based service.
Ready to step up to the plate? Download Airmix today and try it 30 days free!
Go on, you got this!
Curious to know how it works? Check out our support articles: