iOS/Android Monitoring Bundle 2 Serv Pros + Link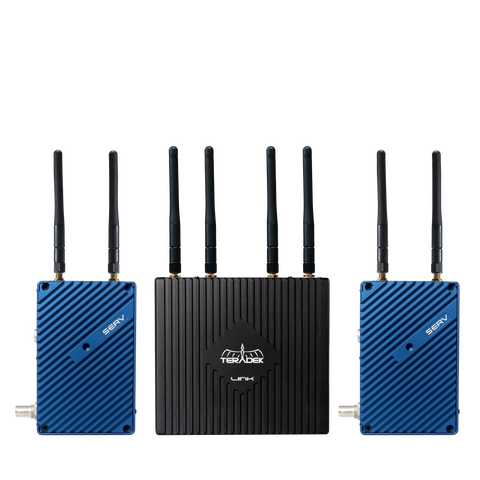 Price: $4,297.00
Deposit:$100.00
Includes:
2x Serv Pro Units [10-0654]
1x Link Dual Band Router (Gold-Mount or V-Mount) [10-0050-A or 10-0050-V]
The Serv Pro
Serv Pro is a hardware streaming device that allows up to 10 iPhones and iPads to monitor a video feed in HD over WiFi. Perfect for script supervisors, hair & makeup, classrooms, and documentary shoots, Serv Pro offers a compelling monitoring alternative to zero delay wireless video systems.
Stream over local networks
Serv connects to cameras via HDMI or 3G-SDI and streams over 2.4 / 5Ghz WiFi or ethernet to iOS and Android devices connected to the same network. Each unit supports up to 10 simultaneous connections, whether you connect directly to Serv Pro or to the same wireless access point.
High definition and low latency
Each Serv Pro feed is streamed at 1080p with just a 2 frame delay. The video stream also includes a stereo audio channel that can be enabled or disabled from the Vuer iOS application.
Professional monitoring with VUER
The VUER application for iOS and Android puts an entire cinematographers toolset in your hands, allowing you to use vectorscopes, false color, focus peaking, and more on each Serv Pro feed you're monitoring. The application is free to use and can be customized to allow users full or limited access to the toolset.
Monitor up to 4 live feeds at one time
VUER can monitor up to 4 Serv Pro feeds at the same time, all in 1080p and all at the same 2 frame delay.
The Link
Link is a ruggedized dual band WiFi router. Designed for use in broadcast and cinema applications, Link offers incredible range, several power options and a chassis suitable for regular abuse in the field and on set.
Dual Band 2.4 / 5 GHz | 802.11ac WiFi
Link supports the latest in WiFi standards and is backward compatible with 802.11 a/b/g/n.
Long Range Coverage
With 1,000 ft. of range, Link offers enough WiFi coverage to blanket most medium sized venues.
High Throughput and Interference Resistant
Link's quad core processor and significant internal memory ensure high data throughput despite numerous clients utilizing the network at once. Compared to typical consumer access points, Link offers optimized buffering and packet re-transmission, allowing you to maintain a consistent connection even in tough RF environments.
Super Rugged and Flexible Mounting
Link's aluminum chassis allows it to withstand the daily abuse common in production environments or in the field. With several ¼"-20 mounts, the device can easily be mounted onto light stands, DIT carts, or OB vans.
External Battery Connection
Choose between a V-mount or 3-stud battery adapter to power Link for extended periods of time in the field.
PoE Power
Link's passive PoE connection allows the system to be powered in line with the Teradek Sphere or any other PoE injector for a more streamlined setup on set.
Network Security
Link offers standard WiFi network protection, including WEP, WPA, and WPA2 security.
Works harmoniously with Teradek Bolt and Paralinx products
Serv Pro operates on 5Ghz WiFi and is a complementary tool to zero delay wireless systems like the Bolt series. With proper frequency management, these systems will work together without interference.