C3Studios is a live production studio run by high school students who learn the skills to produce and broadcast high school sports games, extracurricular competitions, graduation ceremonies, and more.
We sat down with Program Director Amber Pecsenye and Assistant Director Harry So to learn more about their exciting program and the professional-grade gear they use to take their school events live.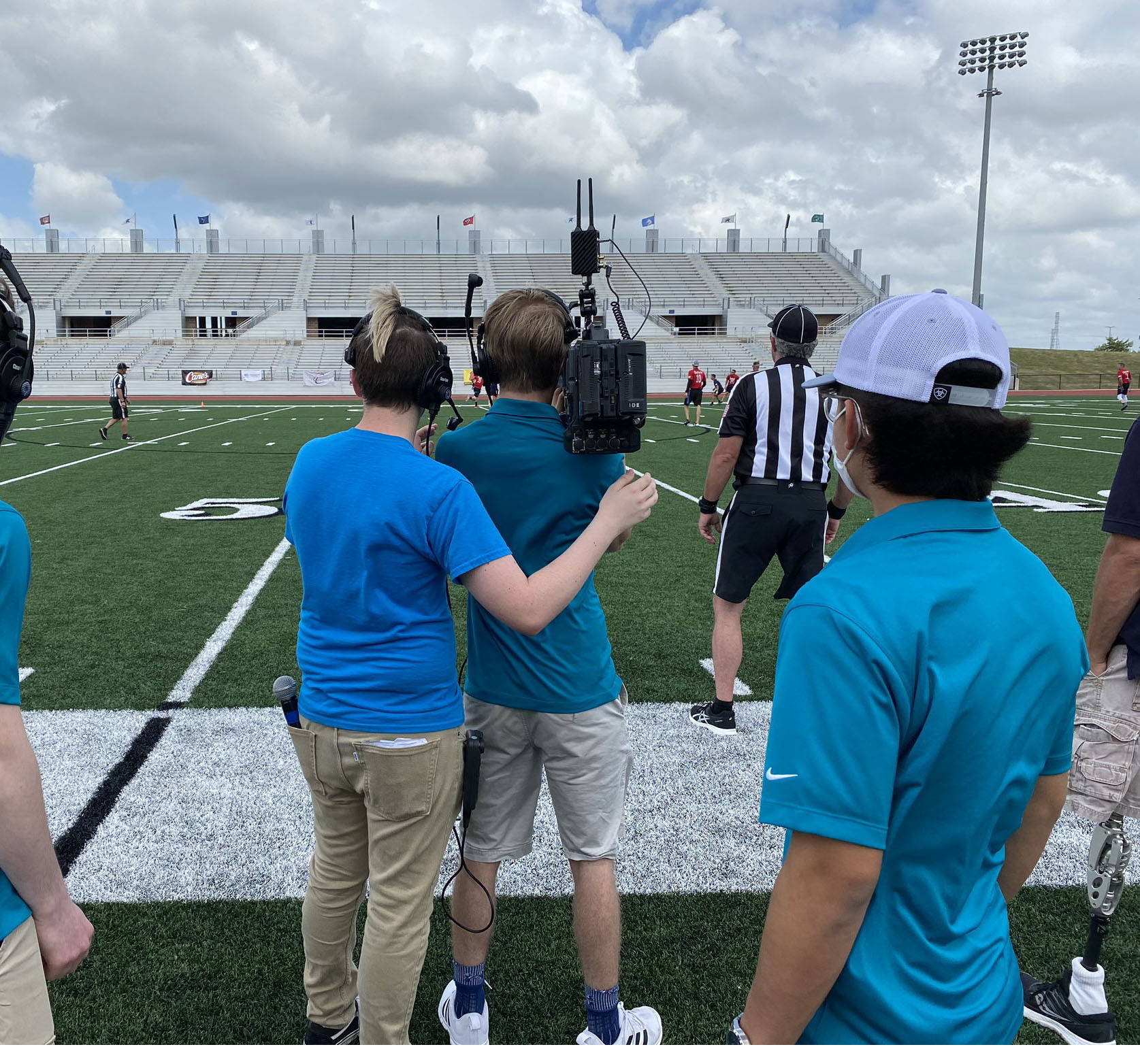 C3Studios students using a wireless camera unit with the Bolt 4K LT 1500 to film football training.
Photo courtesy of C3Studios
Teradek: How did C3Studios start?
C3Studios: In 2013, Clear Creek Independent School District (CCISD) started designing our second multi-purpose stadium. This stadium was going to include a video board and control room, supported by our district AV teachers and students. Dana Morgan, CCISD Career & Technical Education Director, reached out to a few of us (AV teachers) who have live production experience to help construct and build out this setup. Since our AV teachers have experience in sports and live production, we wanted to bring that industry experience—with real industry gear—to the students of CCISD. Challenger Columbia Stadium (CCS) opened in 2016, fully-equipped with an AV control room that rivals many small colleges. We implemented AV students from our five comprehensive high schools, thus forming Clear Creek Creative Studios, or C3Studios. We have around 20 students in the crew per year, with five teachers helping guide the program.
Teradek: Wow, the students are getting an incredible high school experience. What level of live production do these students work on? What does the student program look like?
C3Studios: The company that installed our control room is BTS Houston, who has experience with RodeoHouston, Houston Texans, and the Houston Rockets' stadium. We have Fiber, CCUs, Ross Video Carbonite switcher, and a DreamCatcher—we're proud to give these students tangible skills that make them employable right out of high school.
To apply for C3Studios, students must be enrolled in an audio/video course and receive a recommendation from their AV teacher. Students must come observe a football game during the fall semester prior to starting the application process.
They show up on the job, like regular freelancers, and learn how to produce live sports and events. Sometimes, we train with flag football games, and a few veteran grad students come back to train the newbies. Oftentimes, we have students teach students.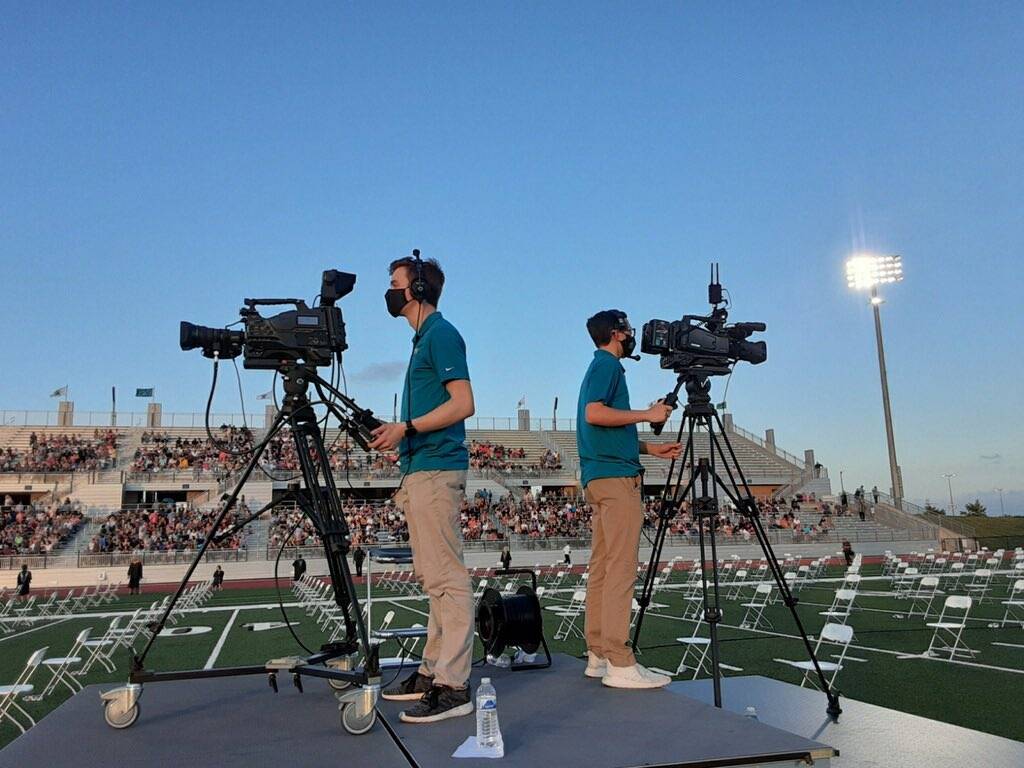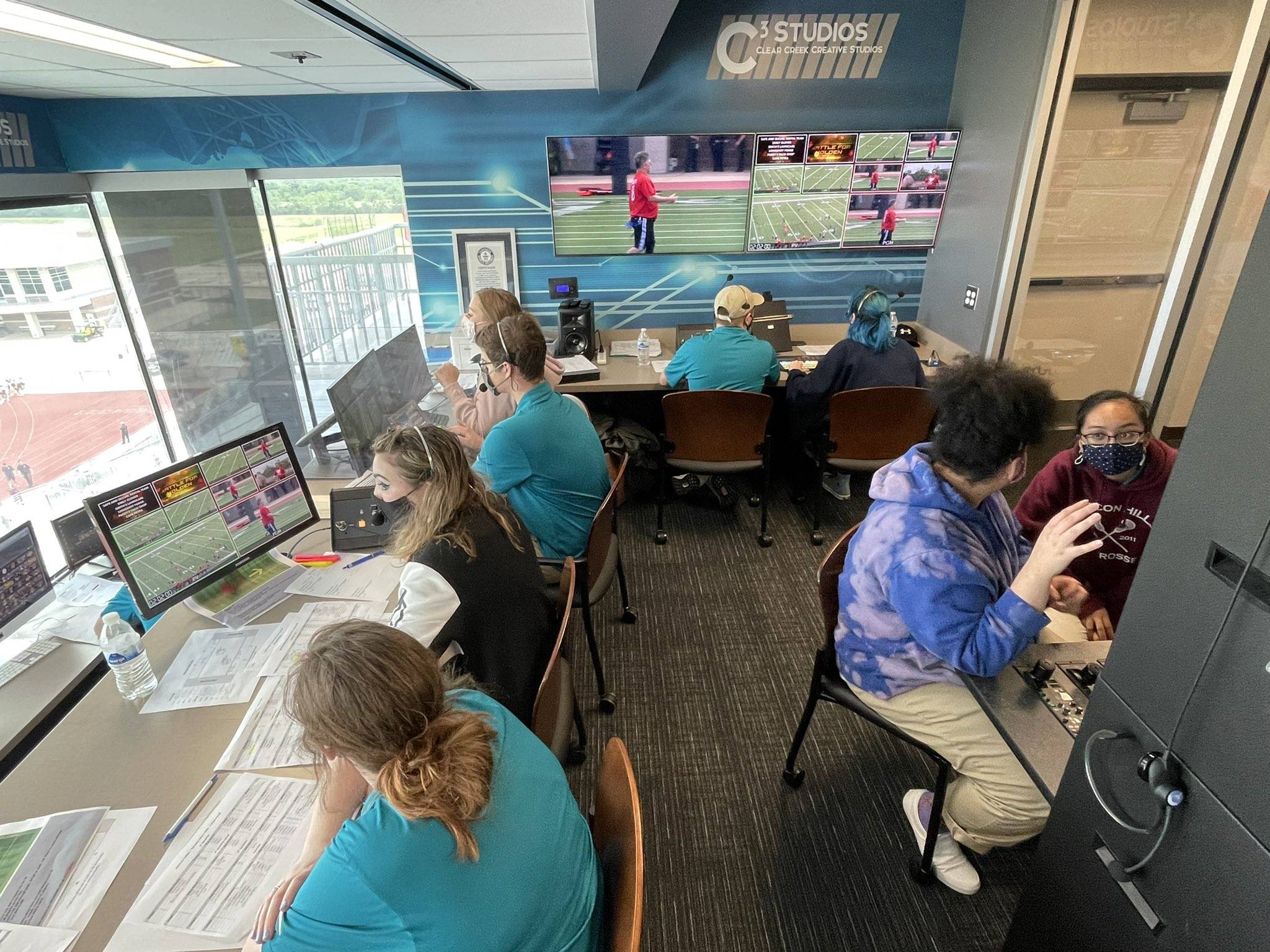 C3Studios using Bolt 4K LT Max to film a football game, and students in the control room. Photos courtesy of C3studios
Teradek: Have they gone on to pursue live production careers?
C3Studios: We have one student from our very first class who just got a job at ESPN. We also have one interning with the Texans and a few on crew with BBVA Stadium. We typically send 2-3 a year to work with the University of Houston and Rice Athletics. Our goal is for our students to go on to college and be prepared for student production programs, and for them to hold their own and work right away.
Teradek: What kind of events, and how many, does C3Studios cover in a typical school year?
C3Studios: We hosted and streamed 24 football games during the 2020 season along with a handful of United Interscholastic League marching band competitions. We hosted the track & field regional meets and graduation in the spring from Challenger Columbia Stadium. We expanded into C3Mobile, which covers the robotics program events, summer graduation ceremonies, nursing program pinnings, and anything our district wants live streamed outside of Challenger Columbia Stadium.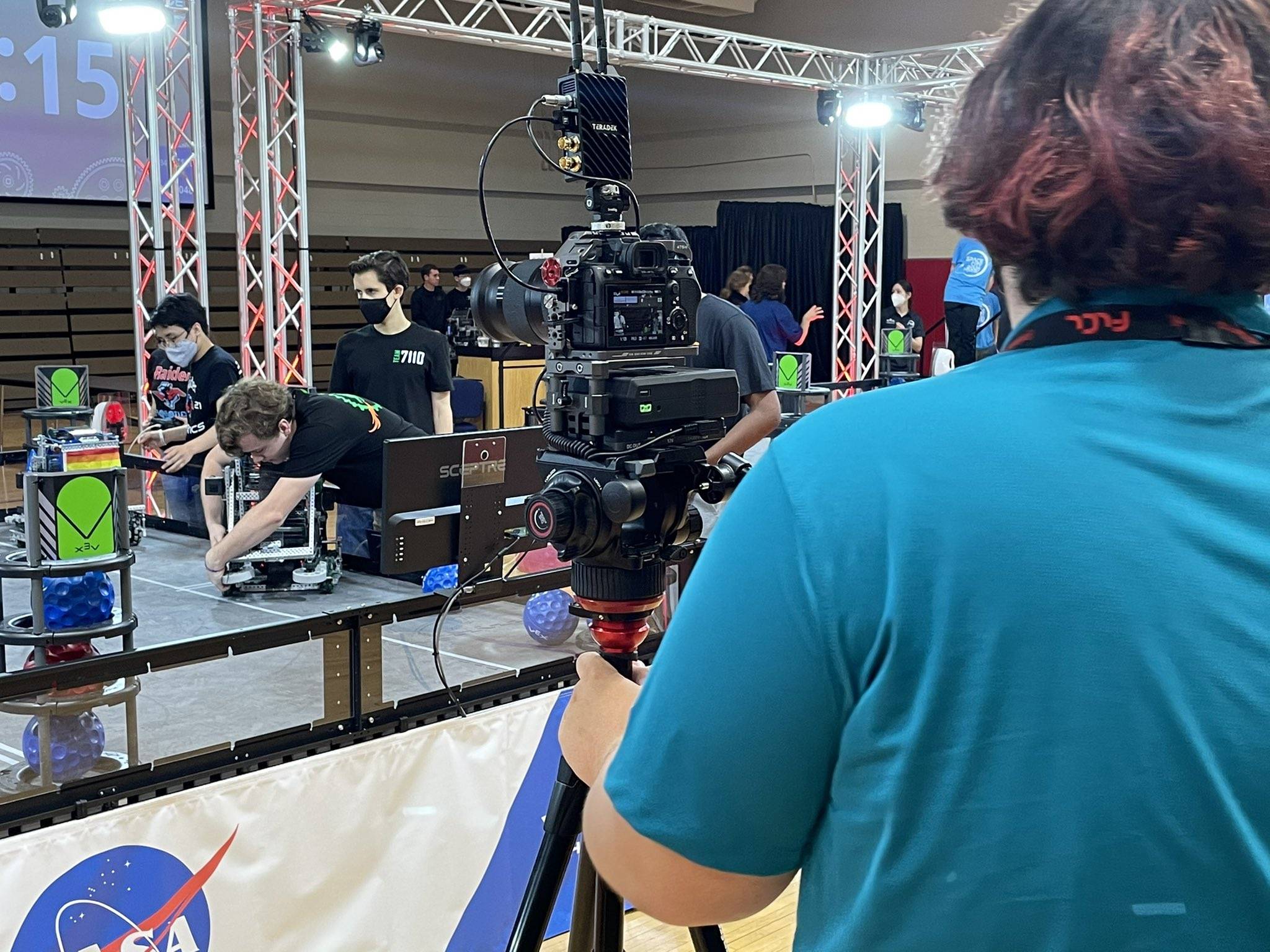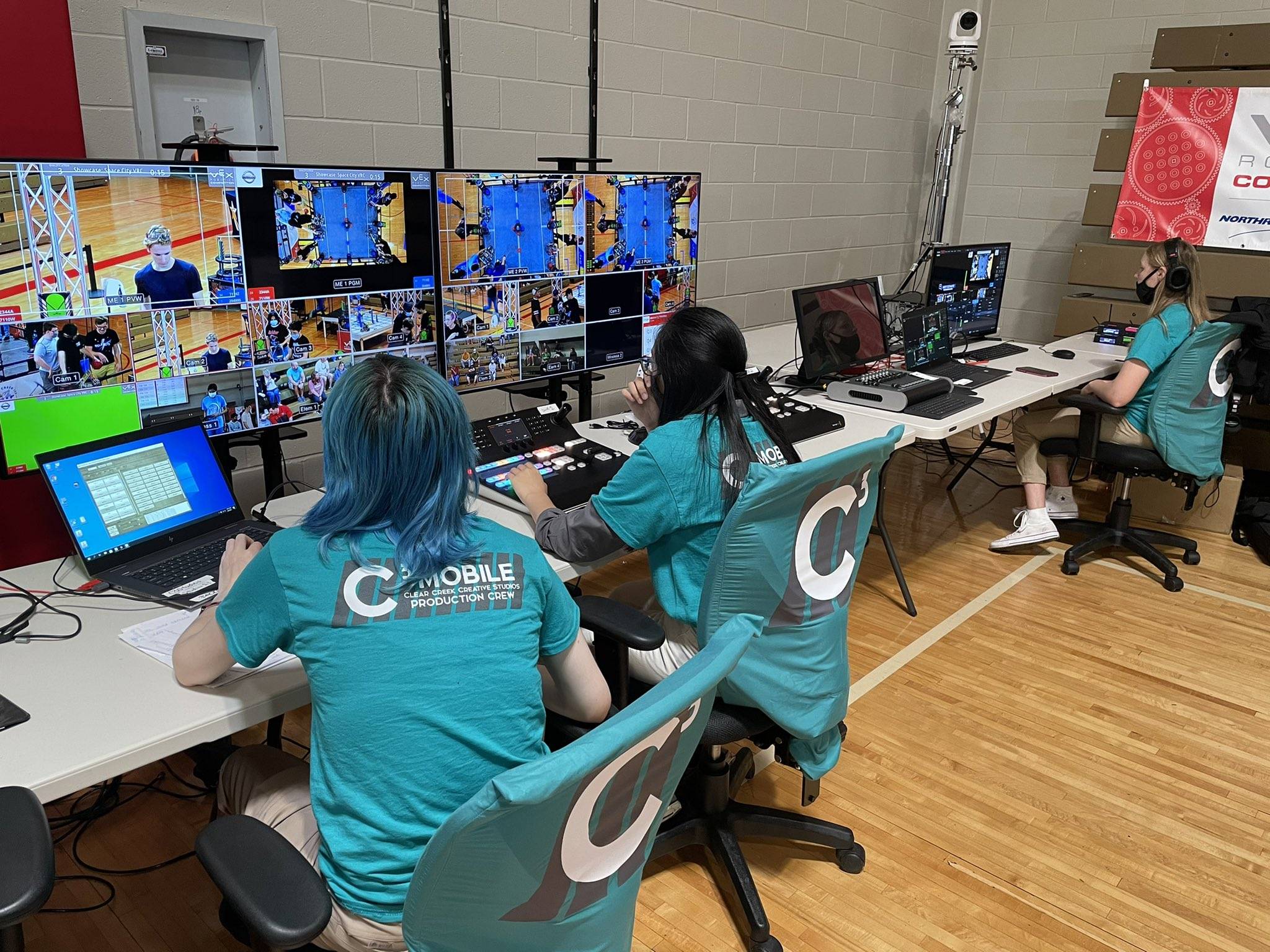 Students using Bolt 4K LT 1500 to broadcast a robotics tournament. Photos courtesy of C3studios
Teradek: What does your setup look like at the Challenger Columbia Stadium?
C3Studios: We have four Sony cameras: two at the top of the stadium around the 35yd line north and south, one at the end zone, and one wireless. Last season, we had a sponsor for Lucky Row and the local business gave out gift cards. This special feature allowed us to take our wireless camera into the stands, and give our students real experience with broadcasting among the crowd. When we expanded to C3Mobile, we decided to get the Bolt 4K LT 1500. The range is great because now, we can go to the visitor's side of the field and still broadcast. Since five high schools share this one stadium, it's important for us to show both sides and be neutral, especially because the visiting team is often a school within our district. The high school students in the stands can now see themselves on the big screen, which they love, and we've been able to show close-ups on track & field events, like shot-put and long jump, which are located on the external track outside our football stadium.
We have two SDI drops for our wireless receiver: one at the 50 yard line and the second at the top deck of the stadium. The transmitter is on a Sony X320 ENG camera. The 1500 stays at CCS and we have the capability of adding the Bolt 4K LT 750 as a second wireless unit. We use the Bolt 4K LT 750 with a Sony A7SIII for our mobile production unit, which provides great flexibility for our robotics program competitions and off-site events, such as the FFA livestock show auction.
High schools should not be afraid to add this device. It just gives you more versatility for your show. It's not as scary to implement it when you have good team members. We love that it makes our footprint a lot smaller because we're using less cables. The Bolt 4K LT 750 and 1500 are both easy to use.
---
Stay informed on all the cool ways Teradek products are being utilized around the world by signing up for our emails! Let us know in the comments how Teradek products have influenced your local organization or productions. We'd love to hear from you!